Speakers now being confirmed for 2020!
January 21st - 2020 Professor Stuart Burgess

Talk - The Wonders of Creation.
Fresh from his talk at the AIG Mega conference Stuart has graciously accepted our invitation to come and speak to us. Ever popular, Stuart will be offering up the challenge to evolutionists who think that this immensely complex world that we live in could ever have come about by random chance selection or that God would have used such a barbaric system to bring about His created order. Always time for some questions and answers after the talk and free tea/coffee and cake!
HIGH PRAISE FOR STUART BURGESS!

Professor Andy McIntosh gives a 'thumbs up' to his colleague Professor Stuart Burgess!
Reference the recent Answers in Genesis Mega conference.
It was a real privilege to hear Professor Stuart Burgess give his talk on "The wonders of the Human Nervous System". With his knowledge of wiring for Space satellites, it was a gripping presentation and it was a joy to hear him do this again at Roger Carswell's get-together at 10ofThose in Leyland on October 29th .
I think there were over 100 packed in to hear him in the small lecture room at the remarkable book depot, on a dark wet night somewhere in the nether regions of Lancashire – it took me an age to find it, but was worth it! With his work on the British Olympic bike transmission mechanism, and his other great research, Stuart has recently received
the James Clayton Prize for the biggest contribution to mechanical engineering science in 2019 (a previous winner in his day was Sir Frank Whittle, inventor of the jet engine!)
– Stuart is effectively recognised as the best engineer in all the UK – may the Lord continue to bless and honour those who honour the Lord publicly, as Stuart has done. It costs to honour Christ in Academia and in any profession, but the Lord is no man's debtor. I have just been reading Daniel 1, 2 and 3. How God mightily blessed young men who courageously stood up against the idolatry in what was effectively the academic prestigious elite of their day. They were prepared to face death rather than dishonour the name of Christ. We need that same spirit today of Daniel and his three companions who would not bow, would not budge – and neither did they burn! – but they were prepared to burn if need be, and many have died and do today for the faith with the same spirit. The biggest and most subtle battle sadly is in the church itself, since so many have compromised on the issue of Genesis and Biblical Creation. I will not mention names here, but I am deeply concerned that there are young men coming through our seminaries who are not standing on vital truths in Genesis because they have not been taught correctly, and thus are not prepared for the onslaught against the Biblical basis for marriage, the sanctity
of life in the womb or the push to euthanize the elderly, and all the other issues which flow from a crumbling Christian foundation. Get Genesis wrong and it will undo the growth of our spiritual lives, and damage for generations the real lasting growth of the church.


Just announced! THE WINNER OF THE jAMES cLAYTON PRIZE FOR 2019 IS.....
professor Stuart Burgess

BSc, PhD, CEng FIMechE
Professor of Engineering Design, University of Bristol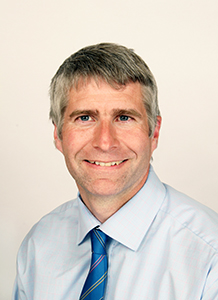 The James Clayton Prize is awarded to a member of the Institution who has made an exceptional contribution to mechanical engineering and related science, technology and invention – by way of research, invention, experimental work, a paper, engineering design or services to engineering.
"It is a great honour to receive this award" says Stuart Burgess, Professor of Engineering Design at the University of Bristol, "especially considering its past recipients". The James Clayton Prize is regarded as IMechE's most prestigious award and is presented to an individual who has made an outstanding contribution to mechanical engineering and related science, technology and invention.
Stuart's distinguished career certainly made him a strong candidate for the award. With seven patents to his name, a holder of multiple awards and having published over 170 papers in design research, he has spent his career working at the cutting edge of mechanical engineering research. But it is was two specific engineering projects which really impressed the Institution's judges.
Since 2002, Stuart has worked with the European Space Agency on all four of their major earth observation satellites. Stuart was responsible for leading the design team that created a triple-hinged robotic arm used to deploy the solar array on these satellites – and he patented a completely new type of gearbox used on each hinge of the arm. The gearbox, known as a Double Action Wormgear Set can perform three functions of rack-pinion, worm-gear and screw-nut. These three functions allow it to absorb launch loads, carry out deployment and lock the gearbox. The gearbox worked smoothly on all four of the ESA's earth observation satellites.
The professor was also recognised for his invaluable work in Olympic bicycle design. Since 2014, he has led a team of researchers at Bristol University to develop ultra high efficiency chain drive technology. His team's advances were used by the British Olympic cycling team at the 2016 Rio Olympics and helped contribute to Team GB's multiple world records and six cycling gold medals.
Stuart's innovation was the creation of a unique pendulum chain testing concept. The smoothness and accuracy of a chain drive would in the past be tested by machine, but by using Stuart's pendulum, cycling teams have a much more accurate way of checking the materials used in a drive chain. The team, along with British Cycling, could then test out minute variations – such as using slightly different lubricants or chain geometries - to find the perfect combination. Stuart then used this research to design a new chain which was used on Team GB's Olympic bikes.
The British cycling team's successes in recent years have been put down to a philosophy of 'marginal gains' – making slight improvements to a wide range of factors to get an edge. Stuart's chain drive testing innovation is a clear example of this strategy. He is now developing a new chain testing technology at Bristol University for industrial chain drives.
Stuart is conscious of the importance of collaboration between university research and industry to solve society's wider problems. "I think one of the keys to tackling the big challenges of the day – such as environmental problems – is that of universities working closely with industry" he explains. This is evidenced through his work with cycling manufacturer Renolds – who have spun his Olympic chain off into the mass market. His pendulum chain testing concept is also being used to develop a new method to test industrial conveyor chains.
The James Clayton Prize is ultimately about recognising mechanical engineers who have made exceptional contributions to the sector. With his role in British Cycling's gold medals and world records, or the ESA's satellites which are helping to monitor climate change - the biggest issue of the day - Stuart is clearly leading in his field and is a worthy winner of the award.
Please come and support Stuart and all that he does to promote the truth of God's word, not just to the secular world, but to the compromising church which concerns us all.
Then guess what? We have the man himself,Professor Andy McIntosh! Don't say that we don't bring you the best of the top leading Creation Speakers in the World.
March 3rd - 2020 Professor Andy McIntosh

Talk subject to be confirmed
---
TO CHECK THE VENUE

AND TIMES

CLICK ON - ABOUT OUR EVENTS